T|R Charitable Foundation
WELCOME TO OPERATION BACKPACK!
PLEASE JOIN US IN HELPING NYC'S CHILDREN IN NEED.
Each year, our team dedicates it's time, effort, money to providing homeless and poverty-stricken children with backpacks filled with school supplies. We have successfully completed 8 annual "Operation Backpack" events and very much look forward to our upcoming fundraiser this upcoming summer!
YOU can make a difference by sponsoring one or more backpacks today! Please email us for sponsorship or volunteering opportunities.
Mission
The primary mission of our non-profit organization is to break the cycle of poverty through education and social services. Our goals are to provide education and social services to children and youth coming from poverty stricken impoverished families.
Providing educational resources
Building libraries and providing high-tech resources
Remaining accountable - 100% of every $1 goes to the cause
Backpacks and supplies
Donating toys to sick children
Encouraging the development of a network of professionals that serves the needs of the economic climate and the betterment of society
Operation Backpack 2018
9th Annual Operation Backpack Drive!!!
This years Goal is to help 400+ kids in need!!!
---
Event Details
Operation Backpack will be taking place from June 1st, 2018 to August 18th, 2018. Contact us to sponsor a child in need now.
Information On The Cause
Our organization appreciates the time you've taken to learning more about our cause. This year, we have selected the following organizations: JCCA, Volunteers of America, Met Council and St. Jude's Research Hospital for kids in Tennessee as backpacks recipients.
We truly appreicate all donations; no amount is too big or too small. All sponsors are kindly asked to provide an age-approporate backpack and schools supplies for the child/children they wish to sponsor. A list of desirable supplies is attached. In the past, some sponsors have also supplements their backpacks with a new shool outfil or other items such as books and/or accessories. Though not requirement, please inform us of your desire to supplement the backpack(s) that you wish to sponsor.
---
How To Get Started
Please contact our organization with the number of children you wish to sponsor. Once a group of children has been allocated to your account, our organization will provide with information on their names, ages, genders and grades. The bags need to arrive at a designated spot by the 13th of August or we can arrange for a pickup. (Pick-ups may be arranged for sponsors who are providing more than 10 bags.) Our organization is available throughout the summer if questions or concerns arise. Please call (347) 617-3110 for further information.
Backpack recipients
Children Sponsored
| Year | Backpacks |
| --- | --- |
| 2010 | 94 |
| 2011 | 147 |
| 2012 | 150 |
| 2013 | 202 |
| 2014 | 252 |
| 2015 | 275 |
| 2016 | 290 |
| 2017 | 295 |
3 Ways To Contribute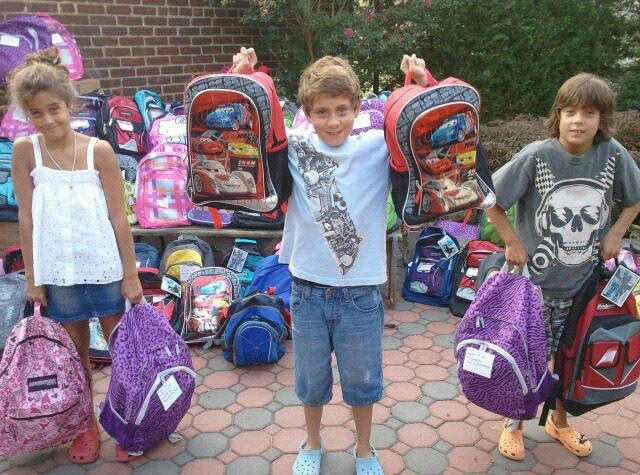 Donate
Paypal, or checks made payable to the organization. (TR Charitable Foundation Inc.)
About Us
FOUNDATION INFORMATION
T|R Charitable Foundation was founded on the idea of helping those in need. Ever since our organization was established, we have endeavored to provide help where the need is greatest.
Our team is made up entirely of volunteers. We advocate for those who need our help. Even a little help goes a long way.
That is why we are especially happy to find new volunteers who share our commitment to doing good in the world. Do you want to support us by helping with our work? Then do not hesitate to contact us. A helping hand is always greatly appreciated!
For information regarding tax-deductions and all related questions, please email [email protected] Attn: Accounting.
---
PERSONAL INFORMATION
Levi Rachmanov | Founder
Board Member of JCCA charitable foundation (Kalontar Leadership Program). Long time Veteran Volunteer with Women in Need and UJA. Avid member and supporter of the NYC community. He began his career in the financial industry and is currently is involved in capital introductions for US Equities for a top Investment Banking group. Levi has a tremendous amount of experience in project finance, funding some of the latest technology companies. During his developing investment banking career he gained extensive experience working primarily in capital introductions of industrial and consumer products sectors. Levi earned his BBA in Finance & Investments from CUNY Baruch College. Levi is a health enthusiast, traveler and concentrates most of his free time on philanthropy and spending time with his family.
Email: [email protected]
Phone: (347) 617-3110
Contact Us
Want to join us? Do you have questions about our organization or any of our projects? Then please contact us - we'll be happy to answer your questions.
TR Charitable Foundation
Phone: (347) 617-3110
Email: [email protected]